Official Side Event Information – 2021
As momentum grows towards the Tokyo N4G Summit, the Government of Japan is welcoming applications for official side events to be held from October 1st to December 17th. Please review the following guidance (French/Spanish/Japanese) and submit a completed proposal form to nutritionforgrowth@gmail.com no later than October 31st.
Upcoming Events
Multi-sectoral Collaboration in Action: Practical insights into addressing malnutrition through a multi-sectoral approach
November 22, 12:00am JST
Join the Power of Nutrition and Nutrition International to learn about multi-sectoral collaboration in nutrition programming and practical insight from diverse speakers on how to make successful multi-stakeholder approaches a reality.
Scaling up the contribution of SMEs to nutrition – tools and SUN Business Network case studies
November 23, 6pm JST
This event will outline the importance of small and medium enterprises (SMEs) in the private sector and the vital role SMEs can play in tackling malnutrition through increasing equitable access to nutritious food.
Building resilient health systems in fragile contexts to prevent and treat malnutrition: Lessons learned and the case for multiyear funding
November 23, 9pm JST
The side event will bring together experts from across the humanitarian and development sector to explore how resilient health systems can be effectively strengthened to prevent and treat malnutrition with 'Quality Funding' that is multi-annual, flexible and predictable. Learn more here
From Nutrition Commitments to Action: The Importance of a Coalition for Action on Healthy Diets from Sustainable Food Systems for Children and All in this the Decade of Action on Nutrition
November 23, 10:00pm JST
The moderator and speakers will explore how the Coalition for Action on Healthy Diets from Sustainable Food Systems for All through its proposed actions (e.g. food fortification, shifting demands and behavior, food environment interventions), can work across diverse food systems actors in support of national roadmaps for food system transformation, while ensuring accountability for commitments made in support of the Sustainable Development Goals.
Essential nutrition interventions and the prevention of NCDs in later life – Results from the Nutrition International/ Harvard TH Chan School of Public Health IGNITE collaboration
November 23, 10:00pm JST
Nutrition International and Harvard T.H. Chan School of Public Health will present new evidence and impact pathways linking maternal nutrition interventions to the prevention of non-communicable diseases in the life of a child.
Improving Maternal and Child Nutrition: Partnering to Accelerate Delivery of Multiple Micronutrient Supplementation (MMS)
November 24, 4:00pm JST
This event will focus on increasing the priority and accessibility of MMS by strengthening health systems in low-and-middle-income countries, raising awareness for MMS, and enhancing collaboration between public and private partners.
Towards a More Equal Future – The Role of Gender Equality in Ending Malnutrition by 2030
November 24, 9:00pm JST
Nutrition is a human right and gender equality issue. Join World Vision, Save the Children, CARE, SUN, Standing Together for Nutrition, and Global Affairs Canada to understand the role of gender equality and women and girls' empowerment to sustainably improve nutrition and access to affordable, healthy diets for all.
Community Ownership Key to Good Nutrition
November 24, 11:00pm JST
Good nutrition requires community-owned programs and a multi-sectoral approach. Rural communities integrate traditional wisdom with modern nutritional science. Join community leaders from Asia, Africa and Latin America in a conversation about community ownership as the pathway to good nutrition.
Introducing the N4G Business Constituency Group: How business is stepping up to tackle malnutrition
November 29, 9:00pm JST
The N4G Business Constituency Group (BCG) is hosting a side event on 29 November to introduce the N4G Business Constituency Group, the journey over the past two years, and its contribution to tackling malnutrition in all forms.
Nutrition During the Next 7000 Days of Life: Middle Childhood & Adolescence
November 29 10:00pm JST
Hosted by the School Meals Coalition
Nutritious School Meals – Unleashing the full potential of the next generation. How public & private support can drive increased impact for an accessible, balanced diet.
November 30, 6:00pm JST
Hosted by Ajinomoto Co., Inc. and Royal DSM
Powering Women – Promising Futures
November 30, 9:00pm JST
Good nutrition is foundational to women's health and wellbeing. The wellbeing of women is critical to the strength of families, communities, and nations. However, inadequate nutrition is not simply a matter of poverty but also inequity. Join this session with global leaders, who are determined to bring women's nutrition to the forefront and who will commit to key actions to accelerate women's nutrition and equity more holistically.
The Business and Investment Case for Nutrition
November 30, 6:00pm JST
The event will illustrate how health and nutrition are relevant ESG issues for institutional investors globally. Investor Signatories to the Investor Expectations on Nutrition, Diets and Health will present a new report outlining existing responsible investment approaches to nutrition, diets and health.
Making Food Affordable for Rural People: Is It Possible?
November 30, 6:00pm JST
Gaining access to healthy and affordable food regardless of income is a challenge for the majority of rural people in developing countries. The most basic requirement of getting enough calories is not met by up to 811 million people, who were undernourished last year. Healthy diets are expensive: more than four times the cost of a basic, calorie-sufficient one. This N4G side event brings together different voices and perspective from governments, food systems experts and CSOs to discuss food systems solutions to increase food availability and affordability for rural people, identify interlinkages and connect the dots.
The event will be held in English with interpretation in Spanish, French and Japanese.
Nourishing our future: launch of the Lancet series on adolescent growth and nutrition
November 30, 7:00pm JST
Launch of the Lancet series on adolescent growth and nutrition co-hosted by The Lancet, GAIN, and the Murdoch Children's Research Institute
How Japan's know-how can help address food and nutrition challenges in the developing world
November 30, 8:00pm JST
This event explores how Japan can lend its expertise to address food and nutrition challenges in the developing world. Presentations focus on Japan's advanced technologies, know-how and institutional innovations and their applications (applicability) in the developing world by drawing upon recent examples of such efforts by IFPRI and its collaborators from Japan.
Ensuring Nutritious Diets for Everyone, Everywhere
November 30, 9:00pm JST
Winning the race toward ending malnutrition in all its forms by 2030 requires a transformation of food systems to deliver better nutrition and healthy diets for the most vulnerable. Join CGIAR for this official N4G side event
Launch of the U.S. Government's Global Nutrition Coordination Plan 2021-2026
December 1, 12:00am JST
The Global Nutrition Coordination Plan Secretariat will host this Nutrition For Growth side event to launch the next U.S. Government's Global Nutrition Coordination Plan 2021-2025.
The Plan is designed to create a platform for coordination and collaboration across relevant U.S. agencies to leverage and enhance our nutrition efforts and investments, and to develop a common narrative for the U.S. Government's goals for global nutrition.
Creating a Healthier Food Landscape in Asia
December 1, 5:00pm JST
Food Industry Asia's session on aims to showcase the current consumer perception towards innovation and reformulation in Asia alongside industry efforts to deliver healthier products in light of addressing the dual burden of malnutrition.
Committing to a veg pledge: a multi-stakeholder initiative to increase vegetable consumption for health and the environment
December 1, 7:00pm JST
Hosts: The Food Foundation
Multisectoral systems approaches to holistically tackle malnutrition: Bridging complex theory and sustainable implementation practices
December 1, 8:00pm JST
Welthungerhilfe and Leibniz Centre for Agricultural Landscape Research (ZALF) invite you to participate in this N4G side event a which will provide an interesting panel discussion with experts from science, civil society, government and the multilateral institutions. Translation into French will be available.
Universal truths about the global food system – sharing lessons and insights from developing a national food strategy
December 1, 9:00pm JST
England's National Food Strategy was an independent piece of work commissioned by the UK Government. The strategy, authored by Henry Dimbleby, was published earlier this year. It has seven recommendations to government of the necessary policy changes required to create a food system in England that delivers sustainable and healthy diets for everyone. This event seeks to draw out some of these universal truths and share these insights with other member states and national policy makers who are committed to transforming the food system.
A food systems approach for better nutrition and planetary health
December 1, 9:00pm JST
Hosted by the Food and Land Use Coalition (FOLU), Food System Economics Commission (FSEC) and EAT this event will bring together different stakeholders involved in shaping food systems – producers, civil society, research organizations, private sector, and governments – for an open conversation that mobilizes action on nutrition and identifies solutions to today's nutrition crisis.
Mighty Nutrients: The Power of Vitamins and Minerals to Unlock Human Potential
December 1, 10:00pm JST
Vitamins and minerals (micronutrients) have the power to unlock human potential around the world. But a staggering 3 billion people globally, perhaps more, cannot afford a healthy diet that delivers the micronutrients people need to survive and live healthy and productive lives. Join GAIN, UNICEF, the Micronutrient Forum, HarvestPlus, the Iodine Global Network, and Act4FoodGlobal to to learn more.
The critical role of urban, local and regional governments in resilient food systems and access to healthy and diverse diets for all
December 1, 10:00pm JST
This event will focus on raising awareness of value and role of urban, local and regional governments in making food systems more inclusive, equitable, sustainable and resilient to advance healthy diets for all. Such awareness is most critical and relevant where commitments and actions that underline the transformation of urban food systems also robustly connect with the food systems at "higher levels" (regional, territorial, national and global).
Promoting better nutrition outcomes through multi-sectoral approach in post-COVID 19 Asia and the Pacific
December 2, 11:00am JST
Join Nutrition International and the Asian Development bank for a discussion on the role of social protection programs in strengthening nutritional outcomes among priority groups – and how social protection can be designed and implemented for effective recovery, nutritional growth and prosperity.
Accountability for action: Breaking down barriers to strong commitment making
December 2, 8:00pm JST
Building on the momentum of the upcoming Summit, the Global Nutrition Report (GNR), Access to Nutrition Initiative (ATNI) and RESULTS UK (RUK) will host an N4G side event focused on engaging all stakeholders in a discussion on the importance of accountability, specifically challenging the idea of accountability as a barrier to progress.
Better nutrition, health, and wealth: the role of informal markets within the future food systems
December 2, 8:00pm JST
The purpose of the side event is to derive a set of principles from the discussions that can help national policy makers globally develop risk-based policies that reward positive food safety – as opposed to criminalization and marginalization – as a means to improve the governance, operations and future of informal markets to ensure their continued contribution to livelihoods, health, and nutrition.
Empowering Every Child for Healthier Future – Potential of School Feeding and Nutrition Education
December 2, 8:00pm JST
The event is for practitioners, policymakers, researchers, and private sector working on nutrition improvement around the world, with the aim of sharing the latest knowledge and experiences on nutrition improvement from various countries and related organizations.
Building investment cases for nutrition interventions: rationale and experience
December 2, 9:00pm JST
Experts and country representatives will discuss how investment cases for noncommunicable diseases (NCDs), developed by UNDP, WHO and UNIATF, under the Global Joint Programme to Catalyze Multi-sectoral Action on NCDs, have been used for diet-related policy changes and legislation, including fiscal measures and changes in packaging and labeling requirements. The session will also illustrate how nutrition intervention modelling can support an end to malnutrition in all its forms, leaving no one behind, as well as what is needed to complete the modelling and investment case for 1-2 countries.
Achieving water, food and nutrition security in a climate crisis: lessons learned from the field
December 2, 10:00pm JST
Food system transformation is required to achieve SDG 2 (end hunger and all forms of malnutrition) and 6 (clean water and sanitation for all). While traditionally siloed in academic and policy arenas, food and water are inextricably linked. this session will share lessons from the ongoing Nutrition-sensitive Agriculture Water Productivity Project being implemented by the Food and Agriculture Organization of the United Nations (FAO) and the International Fund for Agricultural Development (IFAD) in Benin, Mozambique, Niger, Rwanda, Jordan and Egypt.
Reducing child undernutrition: lessons from international development
December 2, 11:00pm JST
Join the World Bank Group's independent evaluation arm, IEG, to contribute to global knowledge on what works in supporting countries highly burdened by child undernutrition. Click here for more information on the independent evaluations.
Advancing equitable access to nutrition for all food systems workers
December 2, 11:00pm JST
To end global malnutrition in all its forms, and meet the targets of the SDGs, we must build agency for the approximately 4.5 billion people that depend on food systems for their livelihoods. A significant proportion of the world's hungry and malnourished depend on the agriculture and agri-food systems related sectors for their livelihoods. Most food systems workers are unable to access reliable nutritional inputs, join us in discussing how decent work opportunities, social protection mechanisms and workforce nutrition programs can help achieve global nutrition security.
The role of parliamentarians in advancing global nutrition targets: An official Tokyo N4G 2021 Side event
December 2, 11:30pm JST
Members of parliament play a key role in setting strong policy and holding decisionmakers to account. In countries with high burdens of malnutrition. Join the US CEO Council for Nutrition and RESULTS UK to call on parliaments around the world to prioritize greater policies and investments in nutrition.
Reimagining the Private Sector's Role in Addressing Undernutrition
December 2, 1:00am JST
This solutions-focused dialogue will cover the role of the private sector in addressing undernutrition. It will acknowledge successful examples of where companies have contributed to transforming social nutrition and will prompt open conversation on new ways the private and public sectors can align on global goals and work effectively together to achieve them.
The Seqota Declaration Expansion Phase: From proof of concept to scale and galvanizing government and development partner investments using lessons from the innovation phase for impact.
December 3, 9:00pm JST
The Seqota Declaration Side Event at the Tokyo Nutrition for Growth Summit 2021 is expected to produce recommendation and commitments which will help to accelerate the expansion and scale up phase of Seqota Declaration and FNS implementation to achieve the Government of Ethiopia's goal of ending stunting and contribute to the SDG agenda.
Infant Feeding in Emergencies: Learning from other countries' experiences (他国の経験から学ぶ災害時の乳児栄養支援)
December 4, 6:00pm JST
Global experts will present experiences and evidence-based information on infant feeding in emergencies: how to protect infants' health in emergencies (for both breastfed and non-breastfed infants). Simultaneous Japanese translation will be available.
Transforming food systems for better nutrition, health, and prosperity for all
December 6, 5:00pm JST
This event will underscore the linkage between nutrition and food systems, and aims to heighten global awareness, momentum, and actions toward delivering on the promise of the UN Decade of Action on Nutrition (2016-2025) and the 2030 Agenda for Sustainable Development.
Undernutrition causes 20% of world's tuberculosis cases. What to do?
December 6, 7:00pm JST
Join the Stop TB Partnership to learn how undernutrition impacts the TB epidemic.
Mobilizing intergenerational action to create sustainable food systems and healthy diets for all
December 6, 7:00pm JST
At the end of a momentous year for global food governance, this event will focus on action. Youth leaders and a range of researchers, businesses, civil society leaders and policy makers will come together to discuss what they are already doing to take action within their own countries to ensure all people have healthy and sustainable diets.
This workshop will focus on the Actions 4 Change, a list of 17 actions developed in consultation with young people all around the world. More than 292,000 young people have already voted on their top actions. By December the voting will be drawing to a close and in line with the rest of the global food systems community, it will be time to start turning words into action.
Biofortified crops: A practical, scalable nutrition-sensitive solution for smallholder farmers
December 6, 8:00pm JST
HarvestPlus and Sasakawa Africa Association (SAA) will share their respective experiences, challenges, lessons, and potential opportunities in empowering rural communities in LMICs to access and grow biofortified crops, and identify a way forward for scaling up. In addition, representatives of SAA and HarvestPlus will discuss their new partnership aimed at accelerating scale up of biofortification in Africa.
Food Safety: A Foundation for Nutrition and Growth
December 6, 10:00pm JST
This side session will delve into the complex multisectoral requirements to keep food safe, with a focus on low and middle-income countries and the informal markets within them where consumers source their diets. A set of specific causal pathways will be presented, through which food safety and nutrition are interlinked. These pathways are grouped into the domains of health and physiology, consumer behavior, supply chains and markets, and policy and regulation.
Responsible Business Pledge for Better Nutrition: Business commits to tackling malnutrition
December 6, 11:00pm JST
Join WBCSD, IFBA, and Food Foundation to learn about private sector commitments intended to address over and undernutrition.
Revolutionizing Nutrition Financing
December 6, 11:00pm JST
This session intends to share solutions and mobilize new thinking around the N4G Cross-Cutting theme of "Securing new investment and driving innovation in nutrition financing". It will bring together various organizations, representing different sectors, to pool thinking on structuring innovative financing mechanisms. The session will offer tangible views on how to mobilize new capital at scale, towards revolutionizing nutrition funding and make the sector less dependent on traditional financing flows.
Breaking the cycle of hunger and malnutrition: Pathways to healthy diets in fragile contexts
December 6, 11:00pm JST
Getting nutrition right today can save lives and futures of the most vulnerable communities. Join this discussion with the World Food Programme and partners on how to bring sustainable change in fragile contexts and achieve healthy diets for all
Counting the True Cost: How Understanding the Real Cost of Food can Improve Nutrition for All
December 9, 8:30pm JST
The hidden health costs of global food systems are estimated to be $12 trillion annually! This session will discuss how food systems approaches, particularly True Cost and Value Accounting, can provide holistic assessments of the negative externalities and positive benefits of different food and nutrition interventions, thus elucidating evidence that leads to the improvement of nutrition strategies and policies.
Financing the Nutrition Agenda: New Commitments, New Partnerships
December 7, 1:00am JST
Join this exciting #N4GSummit side event where philanthropies and other scale financiers will profile new commitments.
Mutual accountability for nutrition and health: what can be learnt from best practices in multi stakeholder collaboration
December 9, 10:00pm JST
Hosted by Action Contre La Faim West and Central Africa
Optimizing public budgets for nutrition in Asia Pacific
December 10, 5:00pm JST
UNICEF will present the Public Finance for Children- Nutrition (PF4C-N) approach to financing nutrition services in this webinar. A seminal framework to apply public finance management (PFM) concepts and principles in the national planning and budgeting to improve child nutrition outcomes, focusing on the Asia Pacific region will be shared. This framework is detailed in a technical manual, which will be launched at the webinar, and a related e-learning course package that forms the PF4C-N toolkit for the Asia Pacific region.
Investing for Impact: Towards Healthier and Sustainable Diets through Research
December 10, 4:00pm JST
Hosted by CGIAR and the Alliance of Bioversity International and CIAT
Rights-based policies for tackling malnutrition and advancing UHC: Aligning N4G
December 10, 10:00pm JST
Join the ACTION global health partnership on International Human Rights Day for a conversation about the right to good nutrition and progress in integrating nutrition into UHC plans with the N4G side event, "Rights-based policies for tackling malnutrition and advancing Universal Health Coverage (UHC): Aligning N4G commitments with progress." Whether you're an advocate, parliamentarian, or civil servant, you can play a role in ensuring rights-based policies are enacted that will help tackle malnutrition and keep commitment-makers accountable for their N4G pledges.
Nutrition research in policy: research impact on policy and practice in nutrition
December 14, 11:00pm JST
UNICEF will present the Public Finance for Children- Nutrition (PF4C-N) approach to financing nutrition services in this webinar. A seminal framework to apply public finance management (PFM) concepts and principles in the national planning and budgeting to improve child nutrition outcomes, focusing on the Asia Pacific region will be shared. This framework is detailed in a technical manual, which will be launched at the webinar, and a related e-learning course package that forms the PF4C-N toolkit for the Asia Pacific region.
Stay tuned for the registration link to watch the event online
Financing for nutrition: Leveraging the pivotal role of Public Development Banks
December 17, 6:00pm JST
Transforming food systems for healthy people, a healthy planet and a healthy economy will require unprecedented finance and strong cooperation. Public Development Banks(PDBs) can help us move forward. This event will present the PDB Initiative proposed by IFAD, and focus on PDBs' catalytic and pivotal role in food and nutrition. The PDB Initiative focuses on improving PDBs' capacity to contribute to the transformation of sustainable food systems that can provide good and adequate nutrition to everyone.
Past Events
Improving Nutrition Through Bold Actions in Health and Food Systems – Fostering Commitments for N4G
October 11-14, various times
In preparation for the Nutrition for Growth (N4G) Summit, the Department of Nutrition and Food Safety of WHO and the UNICEF Nutrition Section of the Program Group will host a week long series of virtual events focused on improving nutrition through a multi system approach.
Equity From Birth: Committing to an integrated approach to immunisation and nutrition to reach Universal Health Coverage
October 28, 5:00pm JST
Integrated immunization and nutrition services have the potential to break the cycle of malnutrition and preventable diseases. Join Gavi, the Vaccine Alliance, the Scaling Up Nutrition Movement, and the Ministry of Foreign Affairs of the Government of Japan to learn how!
Making Better Decisions for Nutrition: Understanding positive outliers to reduce stunting
November 2, 11:00pm JST
UNICEF and Exemplars in Global Health invite you to discuss a 10-step framework for reducing stunting at scale in order to increase and inform N4G commitments as published in the Lancet series. This 10-step framework will be illustrated through Exemplar countries and countries that have made sub-national progress. Attendees will leave with strategic guidance on key actions countries can take to reduce stunting and learn more about the human and economic benefits of reducing stunting.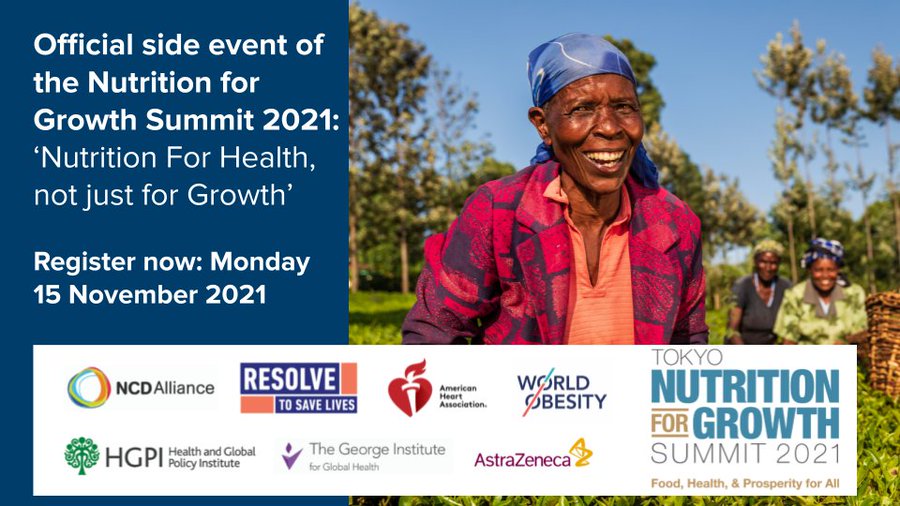 Nutrition for Health, not just for Growth
November 15, 9:00pm JST
NCD Alliance & co-hosts Resolve to Save Lives, American Heart Association, World Obesity Federation, Health and Global Policy Institute (Japan), The George Institute for Global Health and AstraZeneca will uncover all things NCDs, nutrition policy and priorities for urgent action.
No Time to Waste: Accelerating Progress for the Prevention, Early Detection and Treatment of Child Wasting
November 16, 9:00pm JST
The last few years have witnessed a significant increase in the level of global attention on the issue of child wasting. This side-event will harness the power of the N4G Summit to announce and leverage additional support for four key initiatives scale-up efforts to prevent and treat child wasting.
Improving Nutrition Through Accountability and Data Systems: SMART Nutrition for Growth (N4G) Data Commitments
November 17, 10:00pm JST
Join the Data for Nutrition Community of Practice to learn how data for nutrition can be strengthened and important data themes good practices by country governments. Panelists will also share SMART data commitments they have articulated so participants get a sneak preview of N4G data commitments already formulated. Learn more here
Accountability beyond N4G: How can we support commitment-makers to deliver on their promises?
November 18, 9:00pm JST
Join the Scaling Up Nutrition Civil Society Network (SUN CSN) and International Coalition for Advocacy on Nutrition (ICAN) to learn how we can hold commitment-makers accountable and ensure all N4G commitments become a reality.
The missing maternal, infant and young child WHA nutrition target – Where is the anemia target for young children? Perspectives from home fortification efforts
November 18, 10:00pm JST
Hosts: Home Fortification Technical Advisory Group
Growing partnerships: Collaborative action & evidence co-creation to transform management of small/nutritionally at-risk infants aged under 6 months & their mothers (MAMI)
November 19, 10:00pm JST
The MAMI Global Network will host a side event on co-creation of evidence to transform care of small and nutritionally at-risk infants & their mothers.